4865 E. Charleston Blvd.
Las Vegas, NV 89104
(702) 457-8111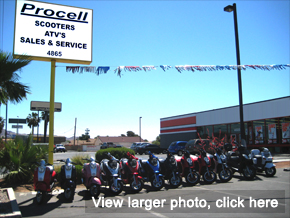 Procell Motorsports Scooter Dealership has a large inventory of Scooters, Mopeds, Dirt Bikes, Quads (4-wheelers), ATV and UTV in a variety of colors and sizes for all ages. Fun for the entire family!
Our superb selection of new inventory is a culmination of years of experience in hand-picking and testing high-quality bikes produced in China. With our select choice of motor bikes promises that you will get a more pleasurable buying experience in our dealership, by eliminating the guess-work of which bike fits your need and skills. We will only sell motorcycles that are tested and true! You can rest assure that the motor bike product you purchase from Procell Motorsports will meet or exceed the highest standard of quality, reliability and affordability. As a Procell Motorsports Dealership customer, you will receive the "highest quality product at an affordably low price."